Agricultural Trailers Production Busy
The last quarter of 2020 and the first quarter of 2021 have been very busy for In Place Technology and the Nursery Haulers brand of agricultural trailers. With the production and delivery of over 150 trailers during this period from California to South Carolina, In Place Technology has never been so active with delivering high-quality industrial trailers.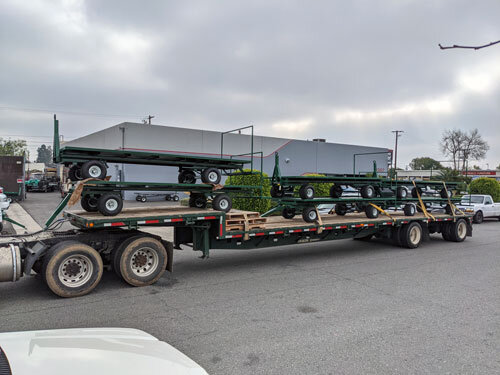 One of the popular trailers during this active time is the FWTH series of fifth wheel style solid deck trailers measuring 62″ Wide x 169″ Long with leaf spring suspension on both axles and a 6,000 Lbs capacity. Features can include a pintle hitch on the rear to connect multiple trailers together and a rear step and rail for transporting workers. The trailers in the above photo went to Evergreen Nursery located in San Diego, California.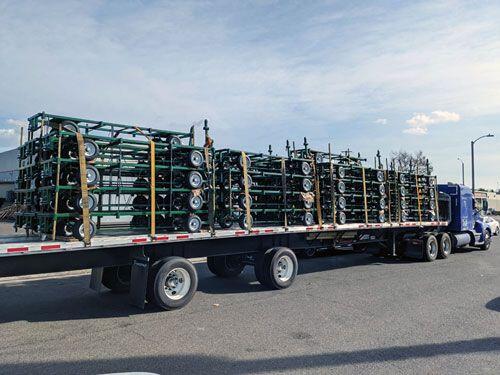 We have been busy designing and building custom trailers as well. We constructed purpose-built trailers with a variety of custom features to best fulfill the needs of the customer. The trailers in the above photo went to Green Lake Nursery located in Seagoville, Texas. They were designed with tracking steering and load capacity to allow for 5 or 6 trailers to be connected in a mule train. These trailers transport a special racking system with the use of stake pockets. Weight savings were accomplished by only placing deck materials above the king-pins to protect the suspension from the weather.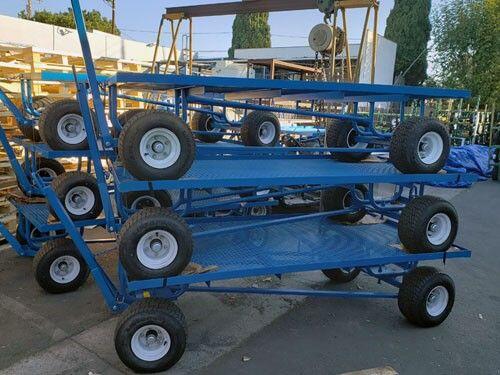 The FWTL trailers are being built throughout the year, and this batch of FWTL trailers are equipped with tracking steering, a loop connector, and a drop-pin hitch: all painted blue to match the other trailers, carts and dollies at Belmont Nursery located in Fresno, California.
Please contact us at help@inplacetechnology.com if we can help you with trailers of any size, type, or purpose. We are happy to help.